The Family of Kirk Passmore Issues a Statement Regarding the Missing Surfer
Kirk Passmore, a big-wave surfer from Hawaii's North Shore, went missing earlier this week after being blown away by a 20-foot wave and then slammed by a second surge. His shattered board was eventually discovered farther along the shore.
After officials spent Thursday searching for the expert surfer, CNN's Eliott C. McLaughlin received a statement from Passmore's family. The 32-year-old company owner, according to the report, had been surfing in Hawaii for over two decades.
"He had been going to Hawaii since he was 14 years old and was an accomplished surfer. He had surfed most of the well-known big wave spots, so he wasn't new to the sport "His family released a statement on the Brigham Young University-Hawaii website.
According to the statement, "Kirk Passmore, February 11, 1981, to November 12, 2013," the 32-year-old Utah native and Carlsbad, California native liked sports such as football, basketball, and baseball, "but his heart was in surfing."
His mother, father, stepmother, and three brothers are likewise listed as "survivors."
After Passmore washed out and was struck by the second wave, a group of fellow surfers and rescue personnel immediately began searching for him, according to Hawaii News Now's Keoki Kerr. Despite their best attempts, they were unable to locate him.
Jamie Sterling was also in the vicinity at the time of the event and observed it. According to the surfer, he looked to be hurt during the initial fall, which led him to lose his balance while attempting to recover before the second wave hit.
We believe he damaged his eardrum since he was spotted swimming down with his feet up above the surface. When you break your eardrum, you lose all sense of balance and experience vertigo. So you've got vertigo, and he was swimming in the opposite direction when another wave hit him. As a result, he had a two-wave hold down. We didn't see him again after that, and we couldn't find him.
According to CNN, the location where Passmore was riding was under a high-surf warning at the time of the tragedy, with waves reaching as high as 35 feet. Other surfers were perplexed as to why he wasn't wearing a flotation vest given the treacherous circumstances.
According to Passmore's business partner Steve Matthews, Passmore had considerable experience surfing huge waves in the region, as well as in Mexico and other areas.
He was clearly at ease in the high-surf conditions to ride the largest waves, but even the finest surfers are not immune to mishaps.
A surfer who enjoys big waves Kirk Passmore has gone missing and is probably drowned.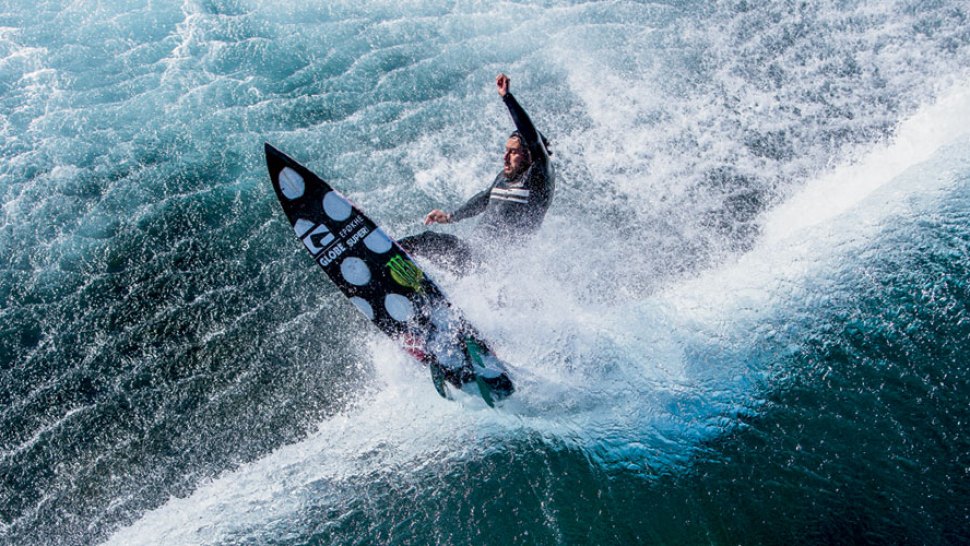 Kirk Passmore (in black trunks and no shirt) was last spotted entering this big wave on Wednesday. During this drop-in, he crashed out and never returned to the surface. He was the lone surfer who wasn't wearing a flotation device on the beach. Daniel Russo/Surfer magazine photo
Kirk Passmore, 32, went missing while surfing monster 20- to 25-foot waves on Oahu's North Shore on Wednesday morning. He is believed to have drowned. At Alligator Rock, a wave that breaks about a half-mile from shore over an outer reef south of Waimea Bay, Passmore was surfing with an experienced crew of pro surfers.
Witnesses say Passmore's last ride (see video above) was one of the day's largest waves, but when he tumbled out on the drop-in, he was glimpsed briefly before the following wave struck him and he couldn't lift his head above the water. One of the surfers who observed the event was Jamie Sterling, a former Big Wave World Tour winner. "It seemed like he had broken his eardrum or maybe his neck since his feet flew up and he was face down," he told Surfing magazine. He might have suffered vertigo or lost his balance."
Passmore was surfing with a group that included prominent pro surfers like John John Florence, Nathan Fletcher, Jamie Mitchell, Patrick Gudauskas, and Damian Hobgood on Wednesday when the first big swell of the winter season arrived.
Rescuers in personal watercraft began searching the region immediately after Passmore's crash but were unable to locate him. Passmore was the lone surfer who was not carrying a floating device that may have assisted rescuers, according to various sources. Local big-wave surfer Chris Owens told hawaiinewsnow.com, "They (the rescuers) were attempting to catch him but they had nothing to hang on to." "Had he been wearing a float vest, he would have been saved." Nowadays, everyone wears float vests." Rescue attempts are still underway, but his corpse has yet to be discovered.
Passmore, a seasoned big-wave surfer, relocated to the North Shore two years ago and worked as a bartender at Banzai Sushi as well as a partner in the adjacent Waialua surf store Third Stone. Todd Chesser, a well-known big-wave surfer, died in 1997 while surfing at Alligator Rock.
Since Chesser's death, safety has been a primary concern for big-wave surfers, and it has significantly improved. Greg Long, a former big-wave world champion, was resuscitated last year after being rescued face down from the ocean at Cortes Bank, 100 miles off the coast of California. Maya Gabeira was resurrected just two weeks ago after losing consciousness while surfing a large swell in Portugal. Flotation devices saved both of these people's lives.
However, in the aftermath of this new event, it's worth considering whether those successful rescues are providing big-wave surfers a false feeling of security. Brian Keaulana is anticipated to bring up the subject during the next big-wave safety conference, which will be placed on Oahu's North Shore next week. When the big-wave surfing community gathers on the North Shore of Oahu each year, Keaulana, a veteran Hawaiian lifeguard, water safety expert, and Hollywood stuntman, holds annual discussions on the topic. Without a doubt, anything that can be learned and used as a result of the incident at Alligator Rock will be discussed.